We are excited to announce the latest update of our software, which comes with many new features and improvements. With this update, we aim to provide our users with an even better webcam experience, not just for work but even better for all kinds of live streaming.
Beauty Mode
Beauty mode is one of the most exciting new features of the OBSBOT WebCam. You can enhance your appearance during video calls or recordings. The beauty mode includes filters that can smooth out your skin, brighten your eyes, and slim your face. You can adjust the intensity of the filters so that you can look your best without that troublesome makeup, get ready for the camera with just one second and one tap.
And it's not just for OBSBOT Tiny 2, every OBSBOT Webcam can access this fantastic feature.
Blurred Background
We also added the Blurred Background feature to the new OBSBOT WebCam software. This feature is perfect for those who want to keep their surroundings private during video calls or recordings. With blurred backgrounds, you can ensure that your colleagues or clients focus on you rather than what's behind you. However, this feature is incompatible with Intel chip MacOS devices.
Note:
a) You need to use the Virtual Camera feature to apply the Beauty Mode and Blurred Background effect in other software like Zoom, OBS Studio, or Youtube Livestream. Follow the instruction below to use it.
Step 1: Turn on the Beauty Mode or Blurred Background feature in the 「Beauty」 section in the OBSBOT WebCam App.
Step 2: Click the Camera icon on the top of the OBSBOT WebCam.
Step 3: Select 「OBSBOT Virtual Camera」as the input video sources in other software like Zoom, OBSBOT Studio, and Youtube Livestream.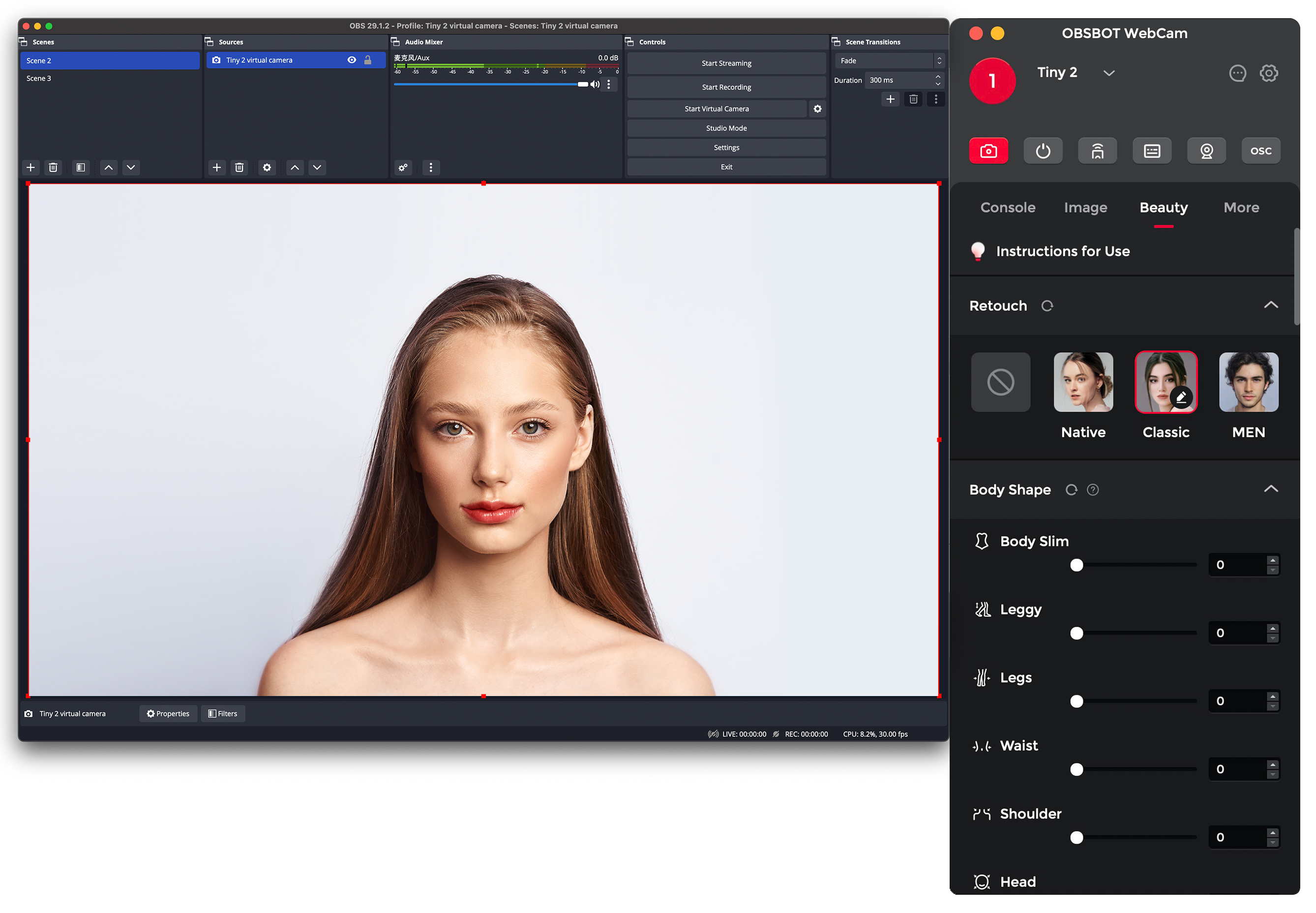 Voila, now you have a video with the Beauty mode effect.
b) Enabling the Blurred Background feature may significantly increase CPU and GPU usage. We recommend using NVIDIA GeForce RTX2060 or a more powerful GPU for optimal performance. Hardware configurations with lower performance may impact video frame rates.
c) For Windows users, two levels of Blur Background effects are available: native and advanced. The advanced effect requires an NVIDIA GeForce RTX 20 series or a more powerful GPU. On the other hand, Mac users with Intel chips cannot use the background blur feature.
Compatible with The Newly-Released OBSBOT Tiny 2 And 2nd Gen Remote Controller
Another exciting update is that OBSBOT WebCam is now compatible with the newly released OBSBOT Tiny 2 and its 2nd Gen remote controller. OBSBOT Tiny 2 is the latest addition to our webcam product line, and it comes with even more advanced features than its predecessor. With OBSBOT WebCam, you can take full advantage of OBSBOT Tiny 2's capabilities, such as its Desk Mode and various tracking modes.
Overall, the latest update of the OBSBOT WebCam is a significant improvement over the previous version. With the beauty mode, blurred backgrounds, and compatibility with OBSBOT Tiny 2, you can take your webcam experience to the next level. We hope you enjoy using OBSBOT WebCam and OBSBOT Tiny 2 as much as we enjoyed developing them.
About OBSBOT
Founded in 2016, OBSBOT is an innovative imaging technology and hardware brand dedicated to using new technologies such as AI to inject new vitality into the videography market.
Learn more about OBSBOT: https://www.obsbot.com/